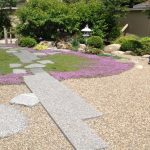 The pine tree lives a thousand years, the morning glory lives only one day, but they both play a unique role.
– Anonymous zen poem
Here, there is no limitation of space : whether small, medium or large, a sense of harmony results from the precision with which each element is chosen and combined in order to be self-sufficient and serve as a foil to the other elements. Pierre Leloup can create a vast range of exterior designs and landscapes adapted to your needs and personality, whether minimalist and contemporary, or typically japanese : water garden, dry garden, tea garden, interior garden (tsuboniwa), mini garden, etc.
From a simple consultation to the complete realization of any project. Residential or commercial